World Soil Day is held annually on 5 December as a means to focus attention on the importance of healthy soil and advocate for the sustainable management of soil resources.
This year's theme "Halt soil salinization, boost soil productivity" aims to raise awareness of the importance of maintaining healthy ecosystems and communities by tackling the growing challenge of soil salinization. It is also aimed at encouraging governments, organizations, and communities in different countries to commit to proactively improving soil health.
Joining other organizations around the world in celebrating World Soil Day, the Emirates Soil Museum will host a special event from 10:00 to 15:00 on 11 December 2021 in collaboration with its sustainability partners: Eedama, The Waste Lab, ENWWF, and the Water Alliance.
The event will bring together people of different ages and walks of life to learn and experience how everyone can play a part in keeping soils healthy and ecosystems sustainable through a range of engaging and fun activities.
Program
10:00–10:30 Arrival
10:30 – 11:00 Opening
11:00 – 12:00 Activities
12:00 – 13:00 Break with live traditional music and interactive games
13:00 – 14:00 Activities
14:00 – 14:30 Talk and workshop with handpans by Mr. Anas, a traditional musician
Activities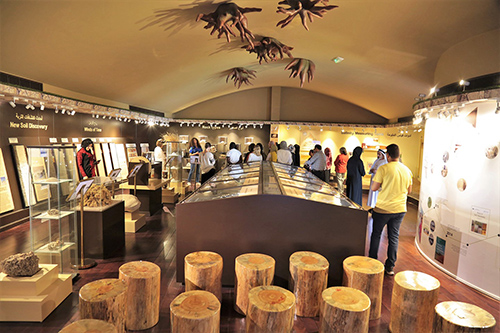 Activity 1
Emirates Soil Museum Guided Tour
A guided tour of the Emirates Soil Museum to learn about the soil story and different types of soils in the UAE.
---
Activity 2
Composting with The Waste Lab and ENWWF
Join us and celebrate World Soil Day by digging into an integral part of healthy soil: composting!
You will find out:
What exactly food waste is and how we can transform it from pollution into a valuable resource
The difference between rotting and decomposition
Why composting is vital in a desert environment
How to get started at home
What you can/cannot compost
Learn from others' trials and errors
Tips and tricks for our environment
Troubleshooting and special tools to help you on your composting journey
Our interactive workshop is open to everyone, including children! Come and experience compost at different stages of maturity. We welcome beginners and experienced composters or anyone who is simply curious!
Celebrate World Soil Day by doing your part to protect our soils and return fertility to our very own backyards. Together we can cycle valuable nutrients back into our local ecosystems and improve our soil fertility!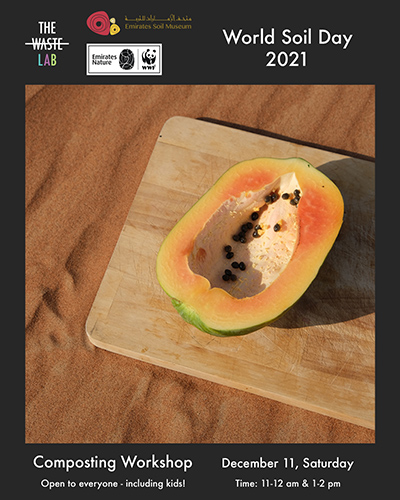 ---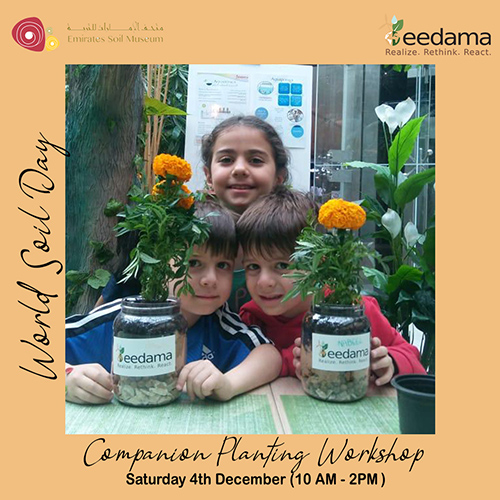 Activity 3
Sustainability Program with Eedama
Environmental activities and workshops that allow participants to learn about sustainability, why it is important and how they can have a positive impact on the environment.
You will do:
Artistic planting
Participants will plant plants in a sustainable manner that saves water and then design their own pots to take away. They will learn how to layer and stack planting mediums.
Duration: 30 min
Seed bombs and permaculture
Participants will create seed bombs to plant in a fun way while understanding the concept of permaculture and companion planting (participants will learn which plants are compatible with others to ensure correct growing food methods.)
Duration: 30 min
---
Activity 4
Family Games with Water Alliance
Join us for a session of cool activities and games for the entire family and get to know why sustainable living starts with smart water behavior. Water is embedded in our daily lives in surprising ways. At work, at lunch and snack time, in your closet, and more. Have fun while learning how our lifestyle choices impact everyone, and everything including our soil! Water connects us all and connects the Sustainable Development Goals. Come and meet us. Water Alliance is your local nonprofit organization in Dubai giving water a voice.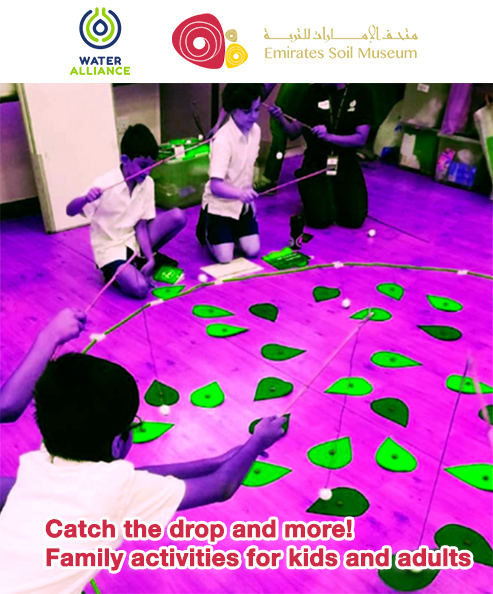 ---
Activity 5
Dubai Municipality Project Space
Family Workshop and activities with Dubai Municipality, Environment department invite you to explore the environment and its sustainability by visiting our Project Space:
Sessions -1- water cycle
Kids invited to play an interactive magnetic game about the water cycle, they will discover through this session the variety water sources on the earth.
Besides, how water and soil are affecting the soil, which will also help the audience to learn about the importance of water and groundwater.
Sessions -2- Ground water and soil
How you can protect groundwater, discover easy methods using plants and soil to conserve the groundwater.
Coloring the sticker on the pot with an activity pack full of stories and activity.
Sessions -3- Permeability of the soil layers
Curious about different soil types permeability, visit us & watch an experiment and tell us what do you discover!
Note: This event has limited capacity. Please register in the form bellow for your morning and afternoon activity
For more details and enquiries please contact:
Ryma Affani